The everything collection. Try some of all that the Lilac St. world has to offer - and mix and match to find your own unique combinations! Save 30% by getting the complete set (individual items valued at $256)
2 sizes of every lash style (13 total) in black
Lilac Lash Conditioning Primer
Lilac Lash Applicator
Black PRO glue
Lilac Lash Crystal Coat
Ciao for Now lash remover
Lilac Lash Pad
Apply in 10 minutes for up to a week of
flawlessly natural wear
Step-by-Step
Click To Read More
Applying the lashes
Clean your eyelashes thoroughly.
Apply Lilac Lash glue to your lashes as you would mascara while focusing on the base of your lashes.
Give the glue about 15 seconds to get tacky. The PRO glue doesn't require a waiting period.
Pick up your first segment with the applicator and apply it to your natural lashes.
Repeat for all segments and slightly overlap to ensure a seamless look.
Swipe a thin layer of Lilac Lash Crystal Coat to the inside of the applicator and fuse the segments and your lashes together to seal the bond.
Finish with a light coat of Lilac Lash Crystal Coat over the entire surface of your lashes.
lash size guide
Customer Reviews
Write a Review
Ask a Question
02/08/2023
Julie

United States
Everything I need
I got the cute travel kit with the cute mini luggage bag to store my lashes and supplies for on the go! This is my first time applying my own eyelash extensions. It was so easy once I got the hang of it. I'm so in love with these lashes. I never have to overspend in another salon again. These are so affordable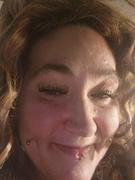 12/15/2022
Susan

United States
Marvelous
I get to try all the different lashes with this buy. I love it.
01/18/2022
Christina A.

United States
Well worth the wait to get this whole Lilac Collection!!!
It's one thing to see all the styles online, but it's another experience to have them all in front of you in plain view!! Such amazing different variety of lash styles!! Love having the option of choosing medium lengths (10mm-14mm) or longer lengths (12mm-16mm). I can't wait to play with all the styles and venture out from my norm. Plus having all the products in one collection makes it a such a good value!! If you're on the edge it getting the whole collection, all I can say is DO IT!! :-)
Thank you so much for your review! We truly appreciate your support. Please be sure to follow us on Instagram for upcoming product launches and weekly giveaways at https://www.instagram.com/lilacst.lashes/