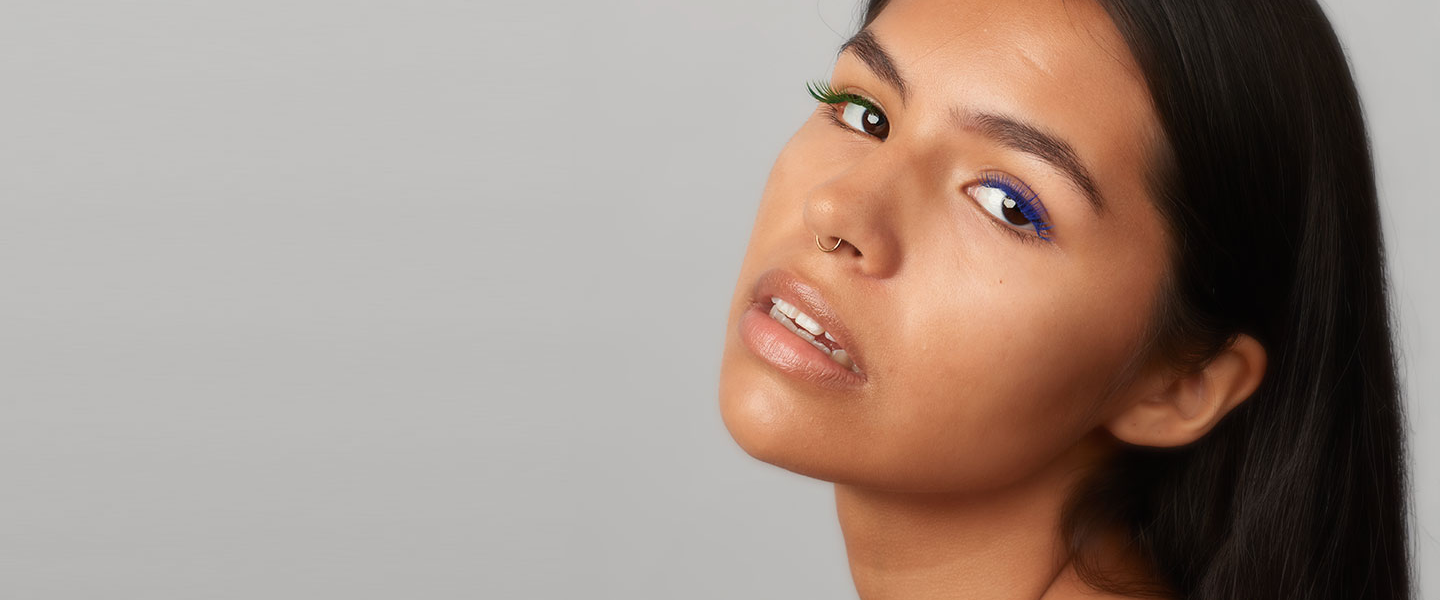 Rainbow Lash Extensions
Are you looking for a change in style? Rainbow lash extensions are a great way to play with your look in a new and unexpected way. 
If you're unfamiliar, rainbow lash extensions come in colors other than black or brown. 
Wearing them is a little like wearing colored mascara but with greater intensity and length. You can get them professionally applied, or try DIY extensions you can apply yourself.
In this post, we'll cover the benefits of rainbow lash extensions and give you some tips for choosing and applying them! 
SHOP NOW
Benefits of Colored Lash Extensions
Are you tempted by the rainbow? Here are some of the reasons why we think you should give colored lash extensions a try! 
They're playful - Color is fun, and adding it to your lashes is a great way to experiment, get creative, and enjoy makeup as an artistic endeavor. 
Enhance your eye color - By adding a pop of color that's complementary to your eye shade, rainbow lashes can enhance and bring out your eyes.
Change of style - Rainbow lashes are a great way to shake up your style and push yourself out of your comfort zone with something different. Who knows, they might inspire you to get creative in other ways! 
Gorgeous accents - Adding just a few clusters of rainbow extensions to your lash line can act as an accent that's a little more subtle but ultra-flattering. 
Costumes & celebrations - Colored lash extensions are perfect for completing a costume or helping you dress for a party or holiday theme. 
Lilac's Rainbow Lash Extensions Collection
Some professional lash technicians offer colored lash extensions, but if you'd rather be your own lash stylist, you can pick up a few DIY rainbow lash extensions from Lilac St. 
Our DIY lash extensions are like the perfect hybrid of false lashes and professional extensions. Like professional extensions, they last for days in a row, but like falsies, they're easy to apply by yourself at home. 
Lilac St.'s rainbow lash extensions are shaped just like our Originals, with fluttery, natural, and universally flattering lash distribution. Here are the shades we have to offer:
This striking set of purple lash extensions will make you feel electric. This bright shade is incredibly flattering on green and brown eyes. Rock them with purple eyeshadow for a monochromatic look, or create a sunset eye by pairing them with yellow and orange eyeshadow. 
The Sapphire lashes will make you feel anything but blue. These eye-catching lashes are perfect for completing your Ice Queen look or for bringing out gold tones. You can create a color-blocked look by adding a pop of yellow in the inner corner of your eyes. 
Embrace your inner forest fairy with the Emerald lashes. The bold green shade looks incredibly flattering against warm or olive skin tones. Reach for these lashes come St. Patrick's Day or complete your mermaid, alien, or other green-themed costume. 
How to Choose the Right Color 
The whole point of colored lashes is that there are no strict rules! That said, if you'd like a bit of direction, here are some potential selection factors to consider: 
Eye color
Choosing lash extensions in the color that's opposite your eye color on the color wheel can help bring out your eyes, while choosing a similar color can create a soft, monochromatic effect. 
Brown eyes - Brown is a neutral color so it can look great with all types of rainbow lashes. That said, cool shades like blue and purple will bring out warmth in your eyes. 
Green - The color opposite green on the color wheel is red, but that shade can make the eyes look slightly bloodshot. Instead, purple will work similarly to enhance your eyes!  
Hazel - Hazel eyes are a mixture of gold, green, and brown, so they'll look best with purple lash extensions. 
Blue - Warm colors like orange and yellow will bring out blue eyes nicely, but choosing blue will create a cool ethereal effect.
Skin Undertone 
Another thing to consider is your skin's undertones. Choosing a mismatched shade could make your skin look washed out or sickly. For best results, opt for lashes in a color that matches your undertone: 
Warm skin - If your skin has a yellow or golden undertone, choose lashes that are either neutral or warm, like purple, green, yellow, or orange. 
Cool skin - Cool skin usually has a pinkish, reddish, or even a blue tint. Choose cool-toned lashes like blue or purple. 
Olive skin - Olive skin has a slightly greenish tint. Green lashes will look best against your skin tone, while purple can contrast too starkly. 
Neutral skin - If your skin is quite neutral without a distinct undertone, you can try any rainbow lash extensions you like! 
Outfit and Occasion
You should also consider the reason why you're getting all made up. It'll be obvious in some cases: St. Patrick's Day simply demands green lashes, while your ice queen costume will benefit from blue lashes. 

But there's more room to have fun! You can choose lashes to match a specific outfit or complete an artistic makeup look. 
Mix and Match 
You don't have to wear a full set of lashes in the same color. Quite the opposite - rainbow lashes should get you excited to experiment and try different things! 

We're big fans of layering colorful lashes over black ones, to add color variation while still framing the eyes nicely. You can also combine several colored lash clusters together to create unique patterns or add a cluster or two at the center or outer corner of your eyes for a pop of color. 
Tips for Applying Lash Extensions from the Rainbow Collection
Getting your DIY rainbow lashes on is as easy as pie, but we have a few tips to ensure a truly astonishing look. 
Always start with clean lashes. For better longevity, apply a bit of our lash conditioner to prep your lashes. 
Plan your look using our silicone pad. Don't be afraid to experiment with your lash map: Use colored lashes of varying lengths to create a cat eye or doll eye shape, stack the lashes under a set of black lashes for more of a pop, or combine a few colors.
If you're using colored lashes alone, make sure to use one of our clear glues. Choose the PRO Glue for up to 10 days of wear. 
If layering with black lashes, the black glue will work as well.    
After applying the glue, apply your colored lashes from beneath your lashes, about 1 mm above the base of your lash line. If you apply them from above the lash line, your lashes will obscure the color, leading to a more subtle, blended look. 
Once you finish applying your lashes, use your lash applicator to fuse them together with your lashes by pressing both together. 
Once you've finished your application, use the Lilac Crystal Coat to remove the tacky finish and seal everything together. 
Live Life in Color 
It's easy to fall into patterns with makeup, so our favorite thing about rainbow lash extensions is how they can push us out of our comfort zone. Sure, black lashes are still the classic, universally flattering options, but why not rock the rainbow every once in a while? 


Lilac St at home lash extensions are super high quality do-it-yourself lashes, the lashes make me glamorous in minutes! No more hours and money spent on extensions that leave your natural lashes as stubs when you are done. Don't wait, you won't be sorry!

Ruth
These are the perfect DIY lash extensions to wear under your top lashes!! So reasonably priced, and makes it affordable for ALL to create eyelash extensions at home that WOW!!
Thanks Lilac St. team!!!

Christina
The lashes are extremely comfortable and lightweight plus are super easy to apply. The lash glue dries totally clear and is the best I have used (and I have tried them ALL....). Today is Day 4 of wearing my first set and I am so happy - they are perfect!! Just like expensive lash extensions but at a fraction of the cost and hassle.


TG
I have tried so many lashes from others, but this are it!!! I love the feather and the French lace.. After a couple of tries it will be easy.. don't give up.. They last for 6 days or more...they are so natural..get them..

Monica E.
I've tried several of the Lilac St lashes and they've all been my favorite. My new favorite is Prism. They have gotten me so many compliments. I'm the most awkward person you know and I was able to apply these lashes in no time. They have lasted me 11 days! I'm so thankful I tried this brand.

Lisa S.