Our compact travel case for all your lashes and lash accessories on-the-go. Fits up to 3 lash trays, 1 applicator, 1 Crystal Coat, 1 lash glue, and 1 Lash Primer all at once.
Products shown in photos must be purchased separately - or together in our Deluxe Starter/Travel Kit!
**For subscription members, use code LILACPACK for 25% off. Members can also get free shipping for this item by emailing hello@lilacst.com to 
add
 this item to your next subscription box
Customer Reviews
Write a Review
Ask a Question
09/21/2021
Ry

United States
Cute and functional
This case is hard and well made, I love that it fits 3 lash sets, the glue, primer and applicator tool. My only issue is that my daughter wants to take it for her barbies to travel lol
09/12/2021
Lynlyn

United States
A must have item for lilac lovers..
I love my little travel case. I don't wear makeup so I don't like to travel with a huge bag but this fits everything I need. It holds 3 sets of lashes ( without the sleeve) the lash conditioner, glue, clear coat, and an applicator. I don't use the lilac applicator, but mine still fits fine. There's also enough room to toss in some spoolies. Its easy to open but not so easy that your items will come flying out. I will be purchasing some of the deluxe kits as gifts since it's such a killer deal. If you're a lilac lover..you need this :)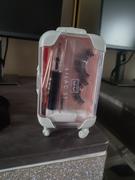 Hi Lynlyn! Thank you so much for your review and feedback!